Automation Engineer
As an Automation Engineer, you will be responsible for managing the complete automation process of the Waterleau projects.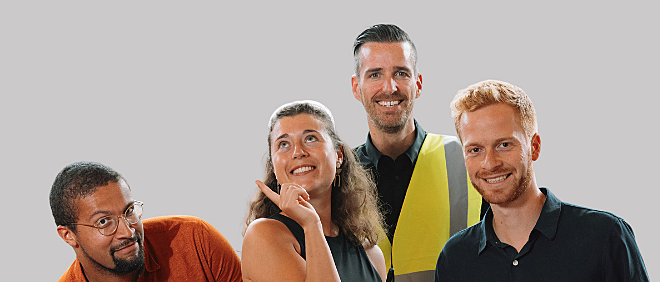 Job Responsibilities
As an Automation Engineer, you will own the process automation of selected Waterleau projects.
Of course it all starts with your affinity with environmental technologies and your eagerness to learn about Waterleau technologies.
You will design the automation architecture and select the PLC and SCADA for both hardware and software according to predefined specifications, P&ID, standards and installation requirements, and you will be also responsible for programming the PLC and SCADA software for designated Waterleau processes and installations.
The nature of your job is linking the dots, making technology work in the actual field. Not only you ensure seamless integration with IT applications, databases and industrial networks. but also you are responsible for the functional operation of the plants and for the implementation of the FAT and SAT of the software – of course in close collaboration with the project's engineering and start-up team; after all every project is the result of an entire team.
In case of order changes, you are responsible for their coordination and follow-up.
You will work closely together with the Engineering and Maintenance teams and you are an anchor point and go-to-person to your colleagues in After Sales and Operations & Maintenance.
Keen to stay on top and even ahead of technology evolution, you will stay informed about new developments in automation equipment, software and systems and you are eager to share your knowledge with colleagues.
Required Skills and Experience
Higher degree in Engineering or equivalent
At least 3 years of experience in the following PLC and SCADA systems: Siemens Step7 and TIA Portal, Rockwell Automation RSLogix, Schneider Modicon , SCADA systems WinCC, RS and FT View or Citect.
Good knowledge of fieldbus technology like Profibus, Profinet and Modbus.
Knowledge of Python, Django, JavaScript and databases (SQLite, PostgreSQL, MySQL)
A proven track record of preparing and following URS, FDS, FAT and SAT documentation.
Proven analytical skills, a detailed mindset and a hunger for quality and excellence.
Fluency in English and Dutch (spoken & written). French and other languages are considered as a plus.
Travel is an important part of the job, one should count on +/- 30% of the time.
Most of all we are looking for a real Waterleau colleague: a true teamplayer with a hands-on attitude, eager to deliver state-of-the-art solutions (and thus sometimes working under pressure) with a happy customer in mind.
Find your local contact
Our expertise is always within reach. Digital communication has cut long distances short, but we advocate the traditional way of sharing insights.

Contact us today. We are looking forward to help you reach your sustainable development goals.