PFAS REMOVAL
Say Goodbye to Forever Chemicals

PFAS and health risks.
PFAS stands for per- and polyfluoroalkyl substances, a group of man-made chemicals widely used in various industrial and consumer products. Persistent in the environment and resistant to degradation, these constructed chemicals are referred to as "forever chemicals."
PFAS pose a health risk due to their potential toxicity and bio-accumulation. Over time, they accumulate in the human body. PFAS have been linked to various adverse health effects, including liver damage, developmental issues, immune system dysfunction, hormone disruption, and an increased risk of certain cancers. Waterleau believes that adequate and cost-effective treatment of the PAS-pollution will be one of the biggest challenges for the water industry in the next decades.
Say goodbye to PFAS
A wide range of PFAS-removal technologies has been developed, including
Sorption technologies such as activated carbon or ion exchange (single use or with regeneration)
Separation technologies such as membrane filtration
Liquid-solid separation technologies such as foam fractionation and dissolved air flotation.
Evaporation technologies for further concentration or even crystallization.
Innovative destruction technologies, the only solution allowing to say goodbye to PFAS forever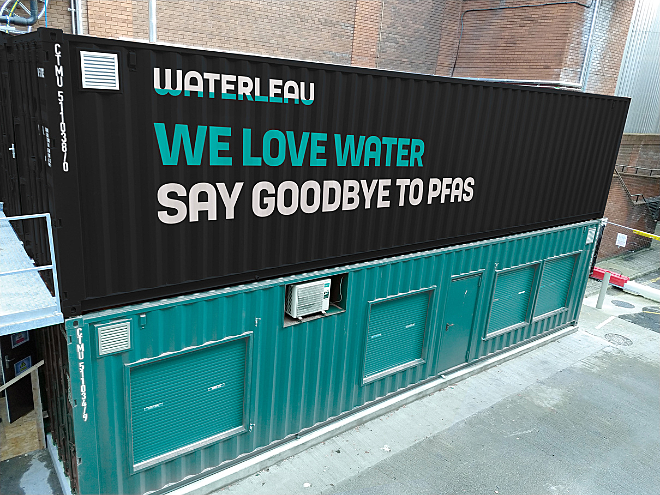 A solution for every PFAS-application
At Waterleau, we are committed to offer a solution for every PFAS-problem: starting from drinking water and contaminated groundwater applications, over industrial and municipal bio-effluent treatment, to even the harshest applications such as landfill leachate treatment.
The adequate solution for each PFAS-treatment case is greatly dependent on several factors:
The PFAS-type : Per- or Poly-, Alkyl acids or Sulfonamides, and Long or Short Chain PFAS. Techniques that work well for long chain PFAS-compounds are not necessarily suited for short chain PFAS.

PFAS-concentration: the concentration in which the different types of PFAS occur greatly influences the preferred solution.
The PFAS-environment or matrix in which the PFAS-pollution is present, also defines the treatment possibilities and economics. Important interactions and competition with organic contaminants and salts (specific ions in particular) will also determine the appropriate technology.
Our approach focuses on bringing the right solution for your specific PFAS-problem. What differentiates us from other single and niche technology suppliers is our solution combining existing and emerging technologies and bringing these together in a unique multi-technology treatment train suited for every application.
Through partnerships with selected specialists in niche technologies, we are now offering a complete toolbox providing customized and performant PFAS-treatment and -destruction solutions taking into account efficiency and Total Cost of Ownership (TCO).
The PFAS-Test Bench : 24 PFAS technology combinations in 1 box.
Implementing an inadequate PFAS-treatment technology will come at a high-price in terms of efficiency and cost. To compare the performance and to validate the operational cost related to PFAS-treatment Waterleau has developed a mobile PFAS-Test Bench offering a swiss-army knife solution, offering all the tools to determine the best PFAS-treatment process in a containerized unit.

The Waterleau PFAS-Test Bench is equipped with 9 different technologies and allows to test up to 24 different technology combinations. Working with the PFAS-Test Bench significantly speeds up the testing time versus testing different technologies in laboratory conditions and allows to validate the technological solution in real on-site conditions.
PFAS Case Study
Waterleau is currently assessing a PFAS-pilot test in the waste management industry. Organic contaminants and high salt levels are also present in the severely PFAS-contaminated wastewater requiring a complex treatment process.

The objective of the test is to compare the technical feasibility of the different potential technologies and to evaluate if a multi-technology approach can significantly reduce the treatment cost. At this moment we can confirm that through a smart combination of different technologies we are able to reduce the PFAS treatment cost by a factor 2.
In the same test, we are also able to destroy PFAS on-site using innovative PFAS-destruction technologies. We are currently in the stage on fine-tuning and up-scaling the technology. We are convinced that in the end PFAS destruction is the only way to go as all the other technologies are just simply moving the PFAS from one medium to another.
PFAS treatment as-a-service : Total-peace-of-mind.
Waterleau's PFAS-treatment solutions are offered under the brand name Waterleau-Box® as mobile, plug-and-play, future-proof containerized solutions to treat PFAS in the most economical way.
Following a technology validation run on the PFAS-Test Bench, we are able to offer our customers a Total Peace of Mind solution in a PFAS-Treatment as-a-service formula, where we take over the complete management of your PFAS-treatment challenge. In this transparent 'as-a-service' model, we will take care of the capex investment as well as the full operations of the PFAS-treatment facility in a pay per drop agreement.
Let us take care of your PFAS-issue while you focus on your key activities.

Book your PFAS-Test Bench today.
Needing help to assess the best PFAS treatment technology? Want to see for yourself? Get access to a a complete range of PFAS treatment technologies. Rent our mobile Waterleau PFAS-Test Bench. In just a couple of weeks, find out what technology fits best for your specific application.
Find your local contact
Our expertise is always within reach. Digital communication has cut long distances short, but we advocate the traditional way of sharing insights.

Contact us today. We are looking forward to help you reach your sustainable development goals.