Energy from wastewater
Unfolding the energy potential of wastewater and municipal sludge reducing grid dependency.
Leadership in energy recovery from organic pollution.
We are experts in recovering energy from the organic compounds in wastewater, organic waste, and municipal sludge.

In the food and beverage industry, we are the undisputed leader helping production sites to significantly cut down on the energy bill.
In the potato processing industry for instance, up to 60% of a potato processing plant's electricity needs is recovered from anaerobic digestion of wastewater and potato waste.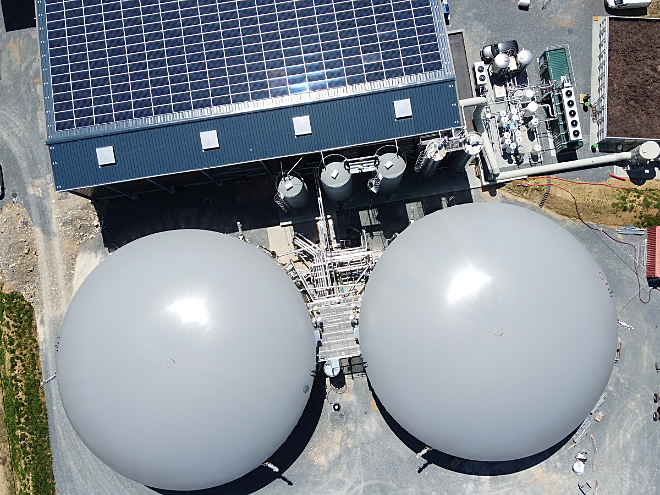 BIOTIM® anaerobic: Energy from wastewater
The BIOTIM® anaerobic reactor portfolio includes solutions for treating wastewater with different ranges of organic load or dry matter content.

Where space is scarce, the BIOTIM® high-rate anaerobic tower combines high removal of organic load and high biogas yield with limited footprint.

For high-yield biogas with high-quality effluent recovery, the BIOTIM® anaerobic tower is a compact solution helping in limiting the energy and carbon footprint.
BIOTIM® reactor range

BIOTIM® UASB 2-20 kg COD/m³
BIOTIM® UAC 20-80 kg COD/m³
BIOTIM® CSTR 50-70 kg COD/m³
BIOTIM® Wet AD 100-600 kg COD/m³
BIOTIM® Anaerobic Tower
BIOTIM® Anaerobic MBR

BIOTIM® Solids: Energy from sludge
Our BIOTIM® Solids sludge digester provides biogas while significantly reducing sludge volume. In the BIOTIM® Solids sludge digester, sludge is digested under mesophilic conditions. The recovered methane needs treatment before fueling the combined heat and power generation units.

BIOTIM® Scrubber: biogas desulphurization
Biogas desulphurization is necessary to increase life duration of combustion engines. The BIOTIM® Scrubber uses activated sludge from biological wastewater treatment as a washing medium, omitting chemicals reducing costs for both water and chemicals.
Find your local contact
Our expertise is always within reach. Digital communication has cut long distances short, but we advocate the traditional way of sharing insights.

Contact us today. We are looking forward to help you reach your sustainable development goals.