Spares and consumables
Providing essential assets to maintain productivity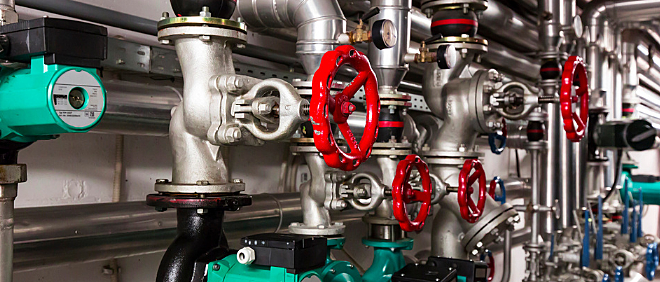 Undisrupted uptime
The availability of spare parts is key in order to ensure maximum uptime of your water or wastewater treatment plant. Having the right spares in stock will eliminate downtime and extends the plant's overall lifetime.

Waterleau spare part management
We provide detailed preventive maintenance schemes for every plant based on suppliers information, but also from our own insights on equipment wear and tear. Depending of the service level agreement, we can take over all the hassle of your spare parts management.

With every maintenance visit, we keep track of your spare-part inventory and make sure everything is available for fast repair of failing equipment.

SmartPart®: essential information in just a scan
When designing and assembling treatment facilities, we tag all parts with a unique QR code label. With all parts tagged, all information becomes available in just a scan, making life easier for repair and maintenance. Our SmartPart® application is expanding with every new treatment plant.
Chemicals & Consumables
Waterleau offers a range of chemicals and related services to optimize and safeguard operations. From root sludge for reactor start-ups and micro-nutrient mixes for increased biogas yield to membrane lifecycle optimization.
ANAEROBIX®: Micro-nutrients for higher yields.
Minerals and trace elements in raw water are often unbalanced. Waterleau ANAEROBIX® micro-nutrient mix provides most essential minerals and trace elements for optimal anaerobic microbiological degradation. This will maximize COD removal and biogas production.
MEMCARE®: Chemicals for expanding membrane lifecycle:


MEMCARE® anti-scalant: Maximize water recovery and minimize scaling with MEMCARE® anti-scalant: the best solution for high-silica waters and the most efficient against carbonate and sulphate scales hardness and iron.
MEMCARE® cleaners: rather than using commodity chemicals for cleaning, the Memcare® acid and caustic cleaners are designed for expanding membrane lifetime.
Membrane analyis
In case of heavily fouled or scaled membranes, our membrane autopsy and root-cause analysis will determine recovery-cleaning alternatives.
Find your local contact
Our expertise is always within reach. Digital communication has cut long distances short, but we advocate the traditional way of sharing insights.

Contact us today. We are looking forward to help you reach your sustainable development goals.