Waterleau's contribution to TAIF's Independent Sewage Treatment Plant
Waterleau and partners in TAIF - Saudi Arabia
Waterleau was privileged and honoured to be invited at the official visit to TAIF's Independent Sewage Treatment Plant of his Excellency the Saudi Minister of Environment, Water & Agriculture, the Chairman of the Board of Directors of Saudi Water Partnership Company and the CEO of SWPC Mr. Khaled Alqureshi who are the client of our partners International Water Distribution Co. (Tawzea) and Cobra Instalaciones Y Servicios S.A. in this project.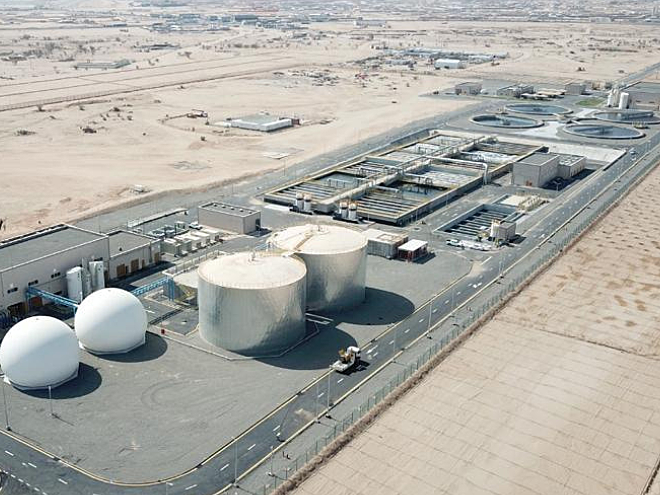 Our technology - LUCAS® TS Advanced cyclic activated sludge
Waterleau contributed to the project with the supply of its LUCAS® advanced cyclic activated sludge technology which functions as the heart of the sewage treatment plant. This technology allowed our partner to significantly optimize the TCO of this 25 years PPP project.
Want to know more about our LUCAS® TS technology?

A first PPP project in sewage treatment
Our CEO Bart Goedseels received the honouree trophy for the Waterleau contribution to this ground-breaking project. Taif's ISTP with a capacity in phase 1 of 100 MLD is the first project of its kind (PPP in sewage treatment) in Saudi Arabia obtaining Commercial Operation. A goal that was achieved in only 22 months from contract signature date. A record in the region and possibly also worldwide.
Waterleau would like to thank our Saudi partner International Water Distribution Co. (Tawzea), its CEO Mohammed Halawani, its business development manager and deputy General Manager Paulo Resende and its project manager Mesfer Alzahrani for the trust and excellent collaboration which resulted already in the award of 3 new ISTP projects for the cities of Madinah, Buraidah and Tabuk totalling an additional 440 MLD (Million Liter per Day) plant. The water of all these plants will undergo a tertiary treatment and will be used for irrigation in the respective regions and contribute to a better life for the people in the respective cities.
The LUCAS® Cyclic Activated Sludge
The LUCAS® Cyclic Activated Sludge is an ultra-compact and intelligent solution for the treatment of industrial and municipal wastewater. It combines the advantages of conventional technology and the SBR (Sequencing Batch Reactor) technology
Find your local contact
Our expertise is always within reach. Digital communication has cut long distances short, but we advocate the traditional way of sharing insights.

Contact us today. We are looking forward to help you reach your sustainable development goals.