LUCAS® and LUCAS® TS municipal wastewater treatment technology key projects
2 October 2023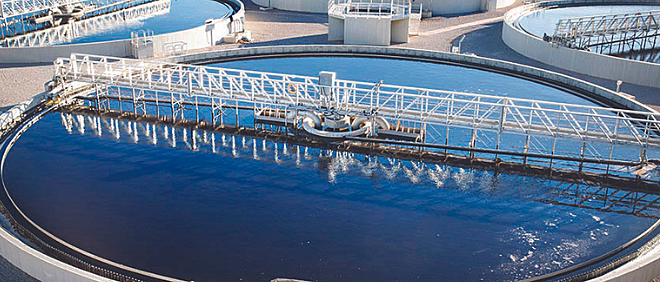 At Waterleau, we are committed to continue advocating reduced-energy municipal wastewater treatment limiting the release of Greenhouse Gases into the atmosphere. Through innovation, we are continuously improving wastewater treatment technologies, empowering the transition from energy-neutral to climate-neutral facilities.

Since the year 2000, Waterleau has built numerous LUCAS® technology-based wastewater treatment plants. On a global level, our LUCAS ® cyclic activated sludge technology treats up to 1.5 million m³ of wastewater each day, representing the wastewater produced by an equivalent of 10.5 million inhabitants.

Worldwide we contribute to a total municipal treatment capacity of 1.5 million m³/day.
LUCAS® TS : Cyclic Activated Sludge technology and tube settling.
One of our key innovations in the municipal wastewater treatment process is the LUCAS® TS aerobic system, currently being implemented in several MWWTP's in the Kingdom of Saudi Arabia and treating 540,000 m³ of wastewater each day, the wastewater equivalent produced by 3.7 mio people per day.
The new LUCAS®TS technology is a next milestone towards sustainable municipal wastewater treatment featuring tube settling and an extension to our advanced LUCAS® cyclic activated sludge solution which combines the merits of the continuous flow reactor (CFR) and the sequencing batch reactor (SBR) technology. Recent advances in research & development allowed us to pronounce the intrinsic advantages even further.
Short intermittent quiescent sludge settling
Optimized dynamic sludge settling with tube settlers
Balanced overflow of treated secondary effluent
Increased biomass inventory
Internal sludge recirculation without recycle pumps
Process and aeration control using SmartLab®
With improved circumstances for sludge settling, the LUCAS® reactor requires less surface. With better conditions for sludge densification, the LUCAS® reactor requires less volume. Due to the absence of sludge recycle pumps in combination with lower instantaneous oxygen requirements, the LUCAS® technology consumes less power.
50% of this capacity is now being treated with our cutting-edge LUCAS® TS Tech Pack.
Transforming Wastewater Treatment with LUCAS®
Are you a municipal leader or professional involved in wastewater treatment? We understand that every municipality has unique needs and challenges. Our team of experts is ready to guide you through the possibilities of incorporating LUCAS® TS Tech Pack into your biological wastewater treatment system.
Find your local contact
Our expertise is always within reach. Digital communication has cut long distances short, but we advocate the traditional way of sharing insights.

Contact us today. We are looking forward to help you reach your sustainable development goals.