Importance of energy efficient municipal wastewater treatment plants
22 September 2023
Energy efficient municipal wastewater treatment
Wastewater treatment plants (WWTPs) alleviate water pollution but also induce resource consumption and environmental impacts especially greenhouse gas (GHG) emissions. Wastewater treatment accounts for approximately 56% of the GHG. Energy consuming, wastewater treatment accounts for 3% of the global energy demand, a figure believed to double in the next decade. Therefore, it is crucial to focus on optimizing energy utilization in wastewater treatment facilities to mitigate their greenhouse gas emissions.
Sustainable wastewater treatment
Achieving net-zero emissions by 2050 and meeting the Sustainable Development Goals for water and sanitation by 2030 urges for the integration of innovative technologies in wastewater treatment management.
With increasing demand for wastewater treatment and due to more stringent discharge regulation, the global water industry energy's consumption is expected to double by 2040. Models predict that by 2040, worldwide wastewater treatment plants will require approximately 314 TWh of energy (see table 1).
Electric power is needed for aeration in the wastewater purification process. Aeration is necessary to help break down the organic pollution in the biological treatment process. The activated sludge process contributes for more than 50% of the total WWTP energy needs.
Committed to bringing down the operating cost of wastewater treatment, Waterleau has developed advanced technologies, increasing the aerobic treatment process efficiency and significantly reducing the energy consumption.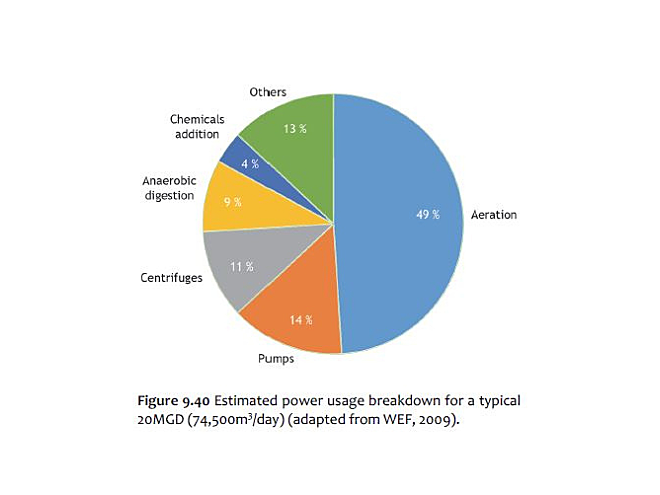 LUCAS® advanced cyclic activated sludge process for municipal wastewater treatment
The Waterleau innovative LUCAS® cyclic activated sludge solution is biological wastewater treatment process developed for treating high-flow and low-strength wastewater, requiring in some cases only half of the electrical energy needs of a conventional wastewater treatment plant. The LUCAS advanced cyclic activated sludge solution, combines high-capacity wastewater treatment with a reduced total cost of ownership.
With the LUCAS® advanced cyclic activated sludge solution, Waterleau is taking a leap towards a greener water industry. With less energy needed, we help municipalities to reduce GHG emissions and reach their sustainable development goals.
Pie chart: Electricity consumption in the water treatment industry by process.

Transforming Wastewater Treatment with LUCAS® TS Tech Pack
Are you a municipal leader or professional involved in wastewater treatment? We understand that every municipality has unique needs and challenges. Our team of experts is ready to guide you through the possibilities of incorporating LUCAS® TS Tech Pack into your biological wastewater treatment system.
Find your local contact
Our expertise is always within reach. Digital communication has cut long distances short, but we advocate the traditional way of sharing insights.

Contact us today. We are looking forward to help you reach your sustainable development goals.