Municipal wastewater treatment
From design and construction to full operations of sewage treatment plants.
Thorough sewage treatment expertise
Cities and water agencies across the world rely on our expertise for treating their municipal wastewater. We design the most appropriate biological wastewater treatment systems producing clean water for safe discharge or reuse as irrigation after a tertiary treatment step.

Our biological municipal wastewater treatment facilities in Morocco are amongst the largest and most sustainable in the African continent: In Marrakech and Fez, treated wastewater is reused as irrigation water, biogas is recovered from sludge digestion, sludge is dried by solar heat and reused in road construction. With a very limited water, energy, carbon and waste footprint, the Fez and Marrakech sewage treatment plant are showcases of sustainable sewage treatment.

Our proprietary compact LUCAS TS® cyclic activated sludge solution is the technical heart of the sewage treatment solution in the Kingdom of Saudi Arabia 2030 water strategy.
Sustainable wastewater treatment
Our municipal wastewater treatment solutions are designed to limit the Eco-footprint and limit the cost of treatment operations:
Biological wastewater treatment
Nutrient removal
Biogas production
Water reclamation
Sludge treatment
Odour treatment
Limited cost of ownership
Outsourced operations and maintenance

Biological wastewater treatment
We are helping small communities as well as +million population agglomerations to treat wastewater. The LUCAS® and LUCAS® TS aerobic wastewater treatment technology are our proprietary activated sludge-based technology and have been implemented in the majority of our sewage treatment plants. Depending on plot size, flow and wastewater characteristics, the most appropriate LUCAS® or LUCAS® TS wastewater treatment technology will be implemented.
Nutrient removal
Our LUCAS® aerobic plants are designed to eliminate not only organic pollution (or BOD), but also nutrients like nitrogen and phosphorus resulting in a high-quality effluent.

Biogas production
Biogas can be recovered from primary and secondary settled sludge. The biogas can be used to power cogeneration units, providing heat for the digesters as well as electric power to operate the plant. The energy recovery from sludge reduces both the facility's carbon and energy footprint
Post-treatment for water reuse
An adapted post-treatment may be needed to complying to discharge regulation or for water reuse purposes. Preparing treated wastewater for irrigation will help improving sanitary conditions for the community and reduce water stress in water-deprived communities.
Sludge treatment
After biogas is recovered from sludge, the digested sludge is dewatered, sanitized and dried before being discharged. In dry countries, sludge can be dried using solar heat and our HYDROGONE® Greenhouse Drying technology. Volume reduction will limit transportation costs, contributing to the treatment facility's eco-footprint.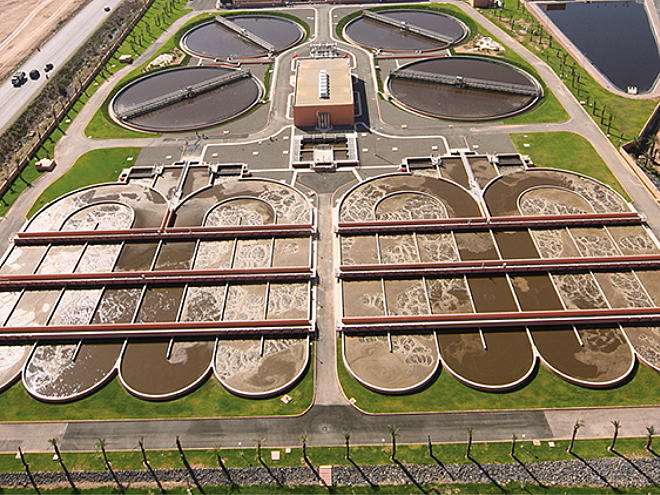 Odor treatment
To limit the odor nuisance of primary sewage treatment, polluted air containing nitrogen or Sulphur-based compounds is treated using biofilter technology. Purification of the polluted air improves the comfort of the plant operators as well as the adjacent population.
Limited cost of ownership
Our LUCAS® municipal wastewater treatment plants are designed for maximum removal efficiency as well as minimal energy and chemical consumption. We provide full operations and maintenance services in the majority of our plants, offering peace of mind to local water agencies.
Operations and maintenance
In Morocco as well as in Macao, we continue to be awarded the operations & maintenance in dozens of municipal wastewater treatment plants. In some sewage plants, contracts have been lasting for more than 20 years.
We are highly valued for our thorough knowledge of the biological processes and for our expertise in managing treatment plants with very different wastewater characteristics or flows. In Morocco, we count more than 250 O&M specialists, making Waterleau Maroc our competence center for municipal wastewater treatment.
Municipal Wastewater treatment
cases
Find your local contact
Our expertise is always within reach. Digital communication has cut long distances short, but we advocate the traditional way of sharing insights.

Contact us today. We are looking forward to help you reach your sustainable development goals.